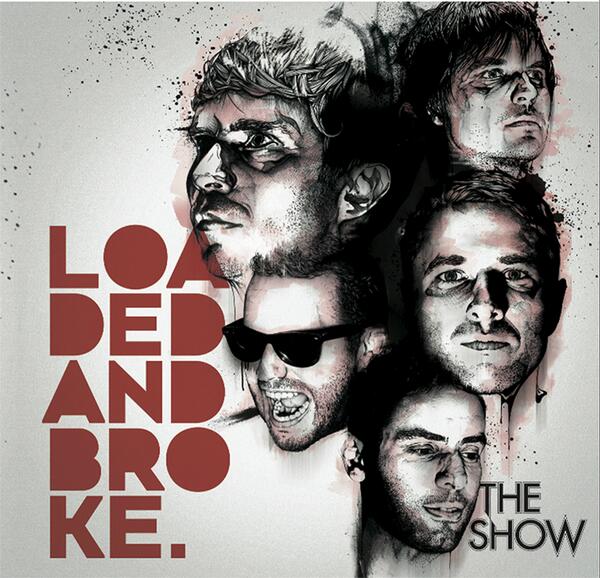 I want to introduce you all to The Show who are a very cool rock band that I have been following on Twitter for about 6 months now. I can't remember how our paths crossed, but I am so glad that they did.
Who are The Show? They are a London based band that are made up of Rich Grisman (lead vocals), Tony Crumpton (bass/backing vocals), Rami Madon (lead guitar), Max Barenthin (rhythm guitar) and Neil Matthews (Drums). Together they create a sound that is here to rock our world!
I have been monitoring their musical progress as they have been feeding fans teasers of how good their music can sound. They had not released an album or EP but I have been waiting with anticipation to add their music to my collection. That was until NOW! The Show have released their debut EP 'Loaded and Broke' and I am happy that they have delivered what I expected, with a little bit more.
I am going to get straight to the point, this is an impressive debut from a band who want to share their love of rock with the world. My only problem I have with this EP is the fact it is an EP, I want more tracks dammit!
From the start, the guys hit us with the epic track 'Come On' which is my favourite from this release as it is rock of the highest calibre. As soon as the drums begin, they are followed by some awesome riffs, then the rock party begins. However, when Rich's vocals fly it takes the song to another level. This is my kinda rock! It's hard to follow a track like that but 'We Need Sound' does a great job as it slows things down a little but gives us a chance to hear Rich's great vocal range. 'Bad Man' has an intro filled with attitude which continues throughout the song to give us another quality track which is thanks to some killer guitar work. I imagine this track would be the highlight of their live performances, hopefully I will get the chance to find this out for myself someday. Last track is 'Never Take us Alive' which continues to impress me with their song writing ability.
Overall this EP has a fantastic sound that is a group effort as everyone is sounding great. The songs are put together well which are designed to entertain. Definitely a worthy addition to my music collection (which you can grab a copy on Amazon or ITunes).
I have added the video for the track 'Ride On' which I am gutted that it didn't make the EP as it's my favourite track that I have heard from the band. It has that old school rock n roll attitude with kick ass guitars, awesome!
Already from this release The Show have shown us that they are here and they mean business. I really hope they get the opportunity to either release another EP really soon or better still a full length album. Head over to their social media sites on Facebook and Twitter to keep up to date with gigs, future releases and much more. Spread the word of The Show as we need more music from this band!